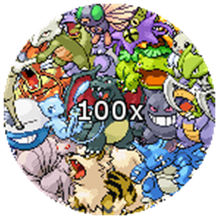 The encounter rate of a shiny counterpart of any Pokémon is 1/1000.
Pokemon that have a blue star and have a different colour means it is a shiny counterpart.
Grinding for a specific Pokemon is the best choice.
Shiny Pokemon aren't only a Color Change of Pokemon, and it change any stat. Any person who tries to deny this is not true.
There was a Halloween event in October 2016 called "Shinypalooza", in which the shiny counterpart encounter rate was multiplied by 10x, from 1/1000 to 1/100.
Most codes in Mystery Gift give the shiny counterpart of the Pokémon you receive.
Shiny Legendary Pokemon are one of the rarest Pokémon in the entire game, however, the encounter rate is insanely small.
The encounter rate with the gamepass is 1/10.
The cost of this gamepass is 450 Robux.

The shiny encounter rate is 1/10 with this gamepass.Now (Assuming you bought the gamepass) you can catch your shinies much easier :) .